February 3rd, A. D., St. Blaise

Peace brothers and sisters in Christ!

Hope you are all doing well in this New Year, as we remember also our bishops who passed away in the last five years.

It is Christ the Light of the Nations we celebrated yesterday, that will bring a new Spring to the Universal Church, and our Church, the ECCC has gained momentum and respect by many Roman Catholic movements as they see in us a valued partner to continue for Church reforms.

As Consultor on the Catholic Reform Movement, including members as Hans Kung, etc. of the board, I will be in Rome prior to the worldwide Synod, and we look forward meeting Pope Francis in order to foster the Dialog for Reforms.

If you have a moment, would you consider to sign the letter for Pope Francis as many around the world doing it right now.

Here is the link. The line, "the voices of the faithful..." was my recommendation for the letter :o)

Please share it with others as well.

It needs to be signed before February 7th.

Please copy the link below, and put in to google and the letter will appear.

http://www.catholicchurchreform.com/letterNew3.html

Thank you all!!!

Blessings
+Karl
***
That is the letter of a bishop named Karl. But who is this Karl?
He is the founder and primate of the Ecumenical Catholic Church of Christ of Detroit, Michigan. The main characteristic of this sect is to promote "marriages" for all kinds of male and female homosexuals.
Here he is seated in the front row during the Mass of Pope Francis in St. Peter's (far leftmost).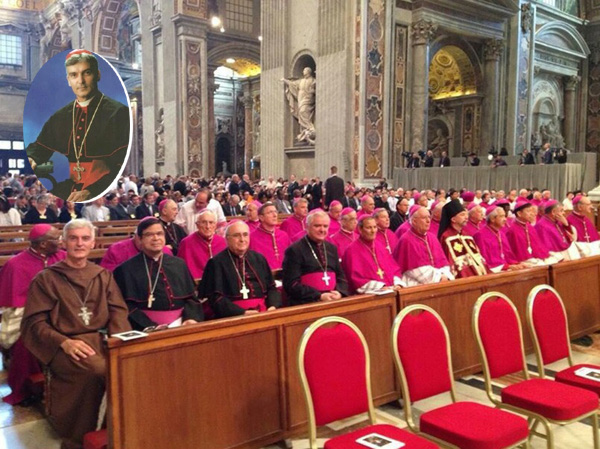 Shall I continue to tell you that it is a schismatic and heretic church?
What is disheartening is that Rodig bought in 2007 from the Archdiocese of Detroit the closed St. Anthony Catholic Church and converted it into his own cathedral. Imagine if the traditionalists would attempt buying this Church!
His group, part of the bigger group called "Catholic Church Reform International" met in Rome in October before the start of the Synod. They had and among them, as
reported
by the National Schismatic Reporter aka Fishwrap:
Among other speakers at the event Thursday were Vatican analyst and NCR columnist Robert Mickens and Benedictine Sr. Mary John Mananzan, an academic philosopher and Philippines native who serves as the national chairperson for GABRIELA, a network of women's organizations in the country.

Among the reform groups represented at the event: American Catholic Council, Association of Catholic in Ireland, Association of U.S. Catholic Priests, and We Are Church Ireland.
Yes, THAT nun. We told she is heretic
Among
those in the program
is Hans Kung (need we say more) and former priest Roy Bourgeois.
Common denominator? For women priest, for contraception, for married priest, for homosexual unions.
This smoke of Satan......