No not Kara David. I do not know if she is pro or anti but she did one sloppy job tweeting about a news on RH until I called her attention.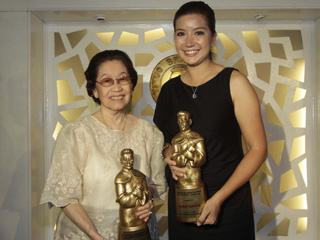 Asuncion David-Maramba
is a pro-RH advocate who stupidly claimed that "
the Church has never explicitly claimed to speak infallibly on a moral question
". She stupidly used the book written by a dissident who is long-overdue with a canonical censure as her reference, Richard McBrien's "Catholicism". By the way, that book has neither Nihil Obstat or an Imprimatur, which means there are a LOT of objectionable things in that trash bin called a book!
And here are the Carmelites (O.Carm.)
giving an award to this old cranky woman
, who like Miriam, wants to lecture us about the Catechism. The award is "instituted in memory of Blessed Titus Brandsma, the award honors journalists, publishers, professors of communication, publications or institutes
who have suffered threats or persecution because of their engagement in the media on behalf of an important human or Christian issue
." So Maramba, attacks the Church's moral authority on the RH issue, and then the Carmelites gave her an award?!?!?
Who are the members of the Board of Judges?
Dr. Florangel Rosario Braid (one of the CCP Board Members who supported the trash of Mideo(cre) Cruz) Business World Chair Vergel Santos (nothing against him), Prof. Bobbie Malay (communist), Rev. Bernard Roosendaal, (Carmelite) and Rev. Christian Buenafe (Carmelite also).
Maybe the award named after a Catholic Blessed and staffed by Catholic priests does not take into consideration whether the person being HONORED attacks the Church or not!
So who's next?
Carlos Celdran?