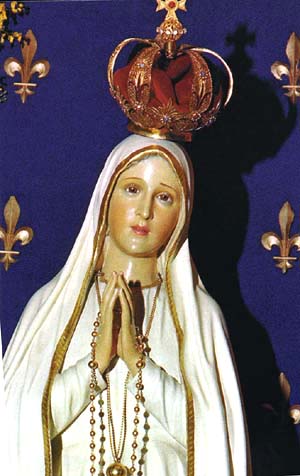 Fr. Jojo Zerrudo
, parish priest of the Lord of Divine Mercy in Sikatuna Village of Quezon City, who we also fondly call our own "Fr. Z", posted in his Facebook account the wonderful news of the visit of the International Pilgrim Image of Our Lady of Fatima. The image will be visiting different parishes of the Diocese of Cubao from July 2 to 5, 2020.
Here is the schedule:
Friday, July 2 : Our Lady of Fatima Parish, Cordillera St., QC
Saturday, July 3: Most Holy Redeemer Parish, Masambong, QC
Sunday, July 4: Cubao Cathedral, Lantana, Cubao, QC
Monday, July 5: Lord of Divine Mercy Church, Sikatuna, QC
Grab this wonderful opportunity to see the image and pray the rosary before Her. I once saw this image at the Basilica of the Black Nazarene in Quiapo, Manila. I prayed the Memorare and the Salve Regina in front of Her, then I proceeded to the Adoration Chapel. Very touching experience! I cannot explain the feeling when I stood in front of Her. As if She was really there...