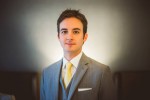 Thomas Peters, the famed American Papist and blogger of
CatholicVote.org
suffered a serious neck injury.
A prayer request has also been
posted
on the website.
His father, the famous and revered canonist, Dr. Edward Peters posted this on his Facebook page.
Thomas Peters remains in critical but stable condition with a cervical spinal cord injury. His lungs are looking better. He and Natalie Zmuda Peters know of your prayers, as do we all.
Please pause for a moment and say Three Hail Mary's and ask the healing intercession of Fr. Michael McGivney, founder of the Knights of Columbus for Tom Peters' immediate healing.
God, our Father, protector of the poor and defender of the widow and orphan, you called your priest, Father Michael J. McGivney, to be an apostle of Christian family life and to lead the young to the generous service of their neighbor. Through the example of his life and virtue may we follow your Son, Jesus Christ, more closely, fulfilling his commandment of charity and building up his Body which is the Church. Let the inspiration of your servant prompt us to greater confidence in your love so that we may continue his work of caring for the needy and the outcast. We humbly ask that you glorify your venerable servant Father Michael J. McGivney on earth according to the design of your holy will. Through his intercession, grant the favor I now present (here make your request). Through Christ our Lord. Amen. (Our Father, Hail Mary, Glory be.)
LATEST UPDATE: (08:12 PST)
Dr. Edward Peters
Thom can move his arms, docs are discussing the best treatment for his neck injury. Immediate concern is for the considerable water in his lungs. We are astounded at the expressions of prayers and support. Thom & Nat know about it. Please keep them up. Love from us all, EdP.