Remember that famous visit of Pope Benedict XVI to Westminster Abbey where he wore the stole of Leo XIII in the presence of the Anglican Archbishop Dr. Rowan Williams in 2010?
Why did he wear that stole?
Remember that Pope Leo XIII was the pope who declared Anglican Orders to be null and void through his papal bull Apostolicae Curae. So, by coming to Westminster Abbey whose patron is St. Peter, the pope, being the successor of St. Peter, preaches "through signs and symbols", in this case with the stole of Leo XIII, his predecessor, that he sends a message and reiterates what Leo said. Remember also that then-Cardinal Joseph Ratzinger, reiterated the position of the Church regarding the nullity of the Anglican orders in 1989 through a doctrinal commentary to Bl. John Paul II's apostolic letter
Ad tuendam fidem
.
And now you see below the photos of Papa Benny in Lebanon.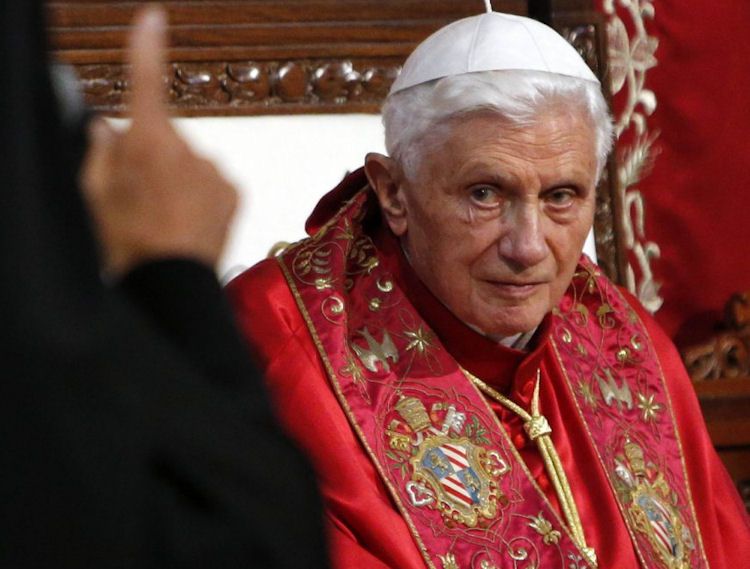 Notice the coat of arms in the stole?
Yup. It is the coat of arms of Blessed Pius IX and yes that is the Blessed Pope's stole.
Now why you ask did Papa Benny wear that stole to Lebanon?
He actually wore this in Lebanon most of the time but it is of interest that he wore this when he addressed the Melkite Greek Catholic Church community.
The Melkite Greek Catholic Church is an Eastern Church in communion with the Holy See but they almost broke off from communion because of the controversy of the Dogma of Papal Infallibility.
The Patriarch of the Melkites
refused to sign the dogmatic Constitution on Papal Infallibility, Pastor Aeternus, during the First Vatican Council. There was also a brewing controversy that it may lead to a formal schism which the Old Catholics actually did. To cut the long story short, it was a momentay impasse and the Melkites remained under the care of Peter's staff.
So what was Pope Benedict XVI the successor of Bl. Pius IX, who called the First Vatican Council and pronounced the Dogma of Papal Infallibility trying to say in Lebanon?
He is the Successor of St. Peter. And what his predecessor proclaimed, holds true today.
Pope Benedict XVI preaches not only through words but also through signs and symbols. He does this all the time. He is an expert liturgist and you can see how much he values the richness of our liturgy that was either watered down or completely lost. Sacred art has been taken out of our churches. Vestments look like school work art projects. Sacred vessels look more like typical country home dinnerware!
That is how the Church teaches, through ALL our senses!
St. Peter's Basilica, the Sistine Chapel, Notre Dame Cathedral in France and Notre Dame Basilica in Montreal were not made because of "Medieval excesses" just as historico-revisionists would want you to believe. Every nook and cranny of those churches was filled with sacred art to tell a STORY. To teach! To catechize both the learned and the uneducated.
Not all can read, even in today's Internet age. But all can understand images and pictures!
Even Bible-thumping Born-against Christians can't help but use pictures and images!
That is how Pope Benedict teaches!
Thank God for our Pope!
Long live Pope Benedict XVI!