Michael Voris once again nails it on the head!
Better to have liberal nuns dressed in their flashy and expensive business suits than have nuns with their habits still on but spread their heresy in the schools and in the media....like this one!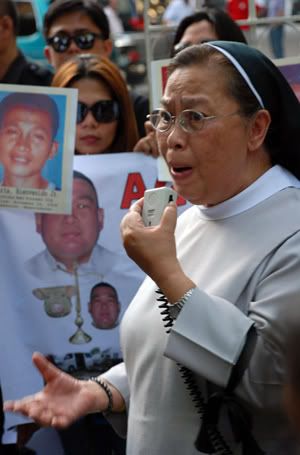 "Sister" Mary John Mananzan, OSB, probably the most liberal Filipino nun to date.
She has expressed her opinion to allow contraception, for as long as it has no abortifacient effect. So, obviously, she is for condoms and tubal ligation and vasectomy.
She is also a supporter of the liberal group
Call to Action
.
She is also the founder of RH Bill promoter and
anti-Church lobby group, feminist Gabriela
.
My advise to these kinds of nuns:
LEAVE THE CHURCH!
Join the Episcopal or Anglican Churches where they ordain women and active homosexuals, where they teach your heresies!

Your kind must change! Not the Church changing her dogma for your like!

Out! Out! Vade retro!