I was at the Basilica of the Black Nazarene yesterday and I came as a pilgrim, acknowledging that I am a sinner seeking the Doctor of Life who Himself is wounded.
I am surprised to see more people this year than in the previous years that I came to the Quiapo for the Señor's feast.
Yes, my friends, the Black Nazarene has a special place in my heart. Whenever my schedule permits it, I make it a point to go to the Basilica to pay Him a visit. Even if I am on an errand to go to either Sta. Cruz or Binondo or Divisoria or Carriedo, I will make a quick turn to Quiapo, pay Him a visit, both by kissing the feet of His revered image and at the Adoration Chapel, before I go about my business in the area. So in turn, I effectively made all my trips to downtown Manila start with a pilgrimage to the Basilica. Parking is hellish, though.
I went to Quiapo yesterday to fulfill a yearly vow. I made a list of petitions I will bring to my pilgrimage. There were a couple of requests sent to me. And yes I included you dear TPC readers.
This year's Feast is much different in my view as there are way more people in the Basilica and in the surroundings of the Quiapo community. I was literally pushed into the Basilica because of the sea of humanity who wanted to go into the church.
While Mass was going on, medical volunteers hurriedly bring pilgrims who fainted. They were escorted out of the Basilica in wheel chairs. I prayed for them as well.
There were so many people who heard Mass that even a whole battalion (no literally) of EMHCs were on hand to help distribute Holy Communion. In spite of that, the EMHCs were unable to go around the church to distribute Holy Communion. I wasn't able to receive Holy Communion even if I was already inside the Basilica.
As the Mass ended, we all sang with raised hands the official song for the Nuestro Padre. After which a thunderous applause and shouts of "Viva!" rang in and out of the Basilica. I continued praying even if the people around me jostled to get out as fast as they can after the Mass. I prayed for those who asked me to pray for them and fixed my gaze on His revered image. I know I had to get out too since the next Mass was about to start. The time between Masses was less than 5 minutes. The Basilica was still full even after the last Mass had ended. Just as I was pushed into the Basilica, I had to rely on the wave of humanity to push me out as well.
Seeing the devotees put their all just to touch the cross or the robes of the Lord, brings me back to the Gospel story of the woman who was suffering from a hemorrhage. Christ asked who touched Him, but Peter told him that large crowds were around Him so almost everyone touched Him. But Christ knew that there was this one person who touched Him because as the Gospel said "power came out of Him."
And when Christ and the woman were able to talk, Christ said ""Daughter, your faith has made you well; go in peace." (Luke 8:48)
That was what the devotees to the Black Nazarene were doing. They are not touching just the wood. They are touching Christ. The sacrifice that men and women go through just to accompany Him who carried the very instrument that would put Him to His own horrific death, walking barefoot like Him, shows you the faith these men and women have and their resolve to fulfill a VOW they made to the Lord.
A prayer for healing, for financial prosperity a special favor for someone...Christ must be very busy hearing all of these prayers. Remember that scene from Bruce Almighty, when the character of Jim Carrey heard all the prayers of the people all around the world at the same time?
I prayed, as hard as I can. I know He hears all of us and He knows what is in our hearts, but I still prayed, because He is just waiting for us to tell Him what we want. I cried while I prayed, knowing that my petitions and requests are petty considering the gravity of the things He did for us. But I told Him "
Bihira lang po ako manghingi sa inyo kahit halos buong buhay ko ibinigay ko para pagsilibihan kayo at ang kapwa ko. Pasensya na po. Maingay ngayon at marami kayong dinidinig na panalangin. Pagbigyan niyo naman po ako, at pakinggan ang aking mga hiling. Pasensya na po at pabigat ako sa inyo.
" (Rarely would I ask anything from You even if I gave everything for You to serve you and my brothers and sisters. I beg your indulgence. The place is noisy and you are listening to a lot of prayers right now. But please, just this once, give me what I beg of you. I am sorry I am such a burden to you.)
I am crying now, just recalling these words which I uttered while I gaze upon the Nuestro Padre enthroned in the High Altar of the Basilica. I gazed upon Him and then turned my attention to Him in the tabernacle.
As I left the Basilica, and passed by and kissed and wiped with my purple hanky three life-sized replicas of the Señor for veneration (or in Tagalog pahalik), I was left with a sense of awe for the festival: How the Lord called all Filipinos from all walks of life to the Church. Believe it or not even Muslims were around the church selling CDs of the songs of the Quiapo Church. The Nuestro Padre Jesus Nazareno song was blaring all around Carriedo and Raon. Thankfully, it was the voices of pilgrims praying and singing, not of the souvenir hawkers, and police and military personnel's voices that I could remember hearing around the Basilica.
Some may call it fanaticism, or even idolatry. But I leave it to the Lord, because as a fellow devotee myself, I see and hear it from my fellow pilgrims. They are not after the wooden image. If it were the case, then there would be no queues to venerate the replicas. We would all be ganging up on the original image securely enthroned in the High Altar. No, we, devotees, do not see it that way. We kiss and touch every single image of the Nazareno we could find on that day, even the smaller ones that our fellow pilgrims are carrying. Because it is not about the wood. It is about what the wood represents. It is He whom we want to touch and kiss and worship!
This morning while having breakfast, I turned on the TV to see what happened in Quiapo last night. To my surprise, the procession has not finished yet. The andas was still in Plaza Miranda. At 6:15 of the following morning, the andas bearing the Señor was finally pulled into the Basilica while you can hear his faithful sons and daughters shout "Viva! Viva! Viva!".
Goosebumps suddenly turned to tears. My eyes welled up and I started crying. Luckily I was alone in the table and my family did not see me looking that way or I have to answer their questions why my face suddenly made an ugly contortion. I cried when I saw the devotees and Hijos in the andas who stayed for 22 hours to finish the procession.
THEY FOLLOWED HIM WHO CARRIED HIS CROSS
. I suddenly felt asking myself:
"Can I too take up my cross daily and follow Him?"
My Christian life is all about that, I believe. Our life is about that. Just carry that cross until the end of the journey. One step at a time. And the Señor, showed me how to do it. Even if I have to trip and stumble along the way to Calvary and finally the Empty Tomb.
The lesson is: JUST KEEP GOING ON.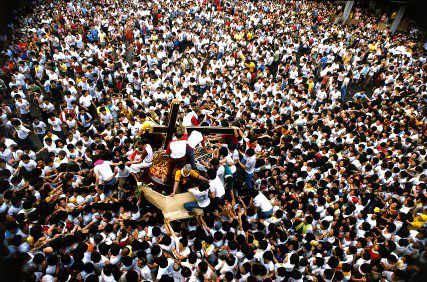 Til next year's Translacion, dear TPC readers.
PS: I will be in Quiapo again this weekend. And yes, I will bring you with me.