A beautiful follow-up to what I just posted.
***
CASTEL GANDOLFO, Italy, JULY 17, 2011 (Zenit.org).-
Benedict XVI says that beautiful cathedrals and abbeys are "striking signs" of God's presence on earth, and he is inviting the faithful to share the ideal of those who built them
.
[The beauty we see in our churches reflects an iota of the beauty we are to expect in Heaven.]
The Pope made this invitation today when he addressed French-speaking pilgrims who had gathered at the summer papal residence to pray the midday Angelus.
The Holy Father referred to the time of vacation as a moment "for cultural and spiritual enrichment."
"
Through the innumerable places and monuments that you visit, you can discover the beauty of that universal patrimony that refers us to our roots
," he suggested.
[The Holy Father alludes to our past which modernists and liturgical revolutionaries so deride. They would want you to think that after Vatican 2, we reset everything to how it was back in the days after the Pentecost. Yeah, right. Ask them to wear togas all day long.]
The Pope made this invitation: "
Be attentive in allowing yourselves to be swept up by the beautiful ideal that inspired the builders of cathedrals and abbeys, when they built these striking signs of the presence of God on our earth. May that ideal become yours and may the Holy Spirit, who sees the depth of hearts, inspire you to pray in these places, rendering thanks and interceding for humanity of the third millennium
!"
***
This one here in the Philippines is beautiful
San Agustin Church, Intramuros
That is why a lot of people go here. It attracts tourists, weddings and idiots...
trying hard to make us believe that he is not a sodomite.
And then compare it with this one.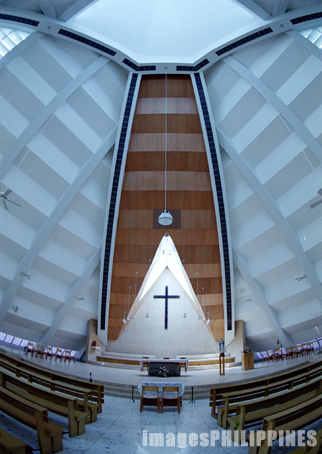 Makes you look for King Tut, huh?
As what I have said before, they will always give the rubbish reason about the simplicity of Christ's life as the reason for the design.
Do we follow this reasoning when we design our churches? Was it triumphalism behind the great churches and abbeys of Europe or was it an expression of their gratitude to the Lord as a love offering and as a reflection of that heavenly beauty we hope to see someday?
This will be definitely off line but here is what I found out based on experience.
Liturgists who insist on "simplicity" in the liturgy and who shun the traditional and the majestic in liturgical art are oftentimes the ones who live luxurious lifestyles.
Take it from someone who lived with these liturgists.
First hand experience folks!