This is from the website of Filipino Freethinkers, which are anti-Catholic. Here is my take on their crap!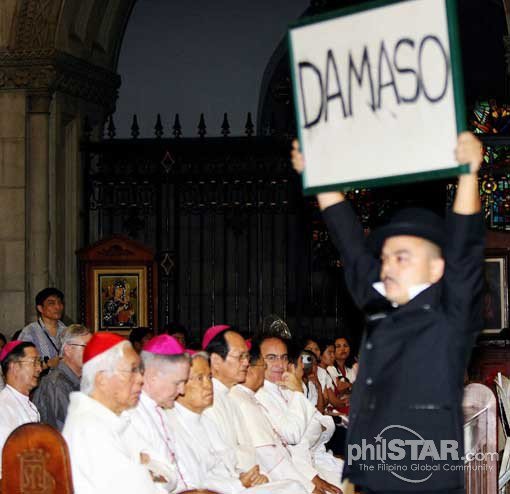 ***
Jose Rizal is behind bars. Or at least someone who looks like him (give or take a few pounds).
[The audacity to compare himself with the famed hero.]
This afternoon, Carlos Celdran was arrested for disrupting an Ecumenical Mass
[Idiot! There is no such thing! It is a Mass for an ecumenical movement, that is a group of Christians, Catholic and not, who give away free Bibles for poor families.]
in Manila Cathedral. During one of the readings,
[It was during the Proclamation of the Gospel. Obviously, they do not know the parts of the Mass. Makes you think, if they are lapsed Catholic or not at all!]
he went in front of the altar wearing a faux Spanish era costume — black pants, black suit, black hat.
He held up a sign that said "Damaso," first for everyone to see then for those seated in the first row — a few Cardinals and Bishops, including Archbishop Cruz. Also in attendance was Mayor Lim. They didn't get what he was trying to do, so he helped them out.
"Damaso!" he shouted.
Eyes opened, mouths gaped. "
Stop interfering in politics
," Carlos shouted. "
Stop meddling in government
!"
[I will deal with this in a while.]
They finally got it.
[So he was asking, begging for attention...]
Mayor Lim ordered the policemen in attendance to take him away (a warrant-less arrest).
[You think? After what this mayor is going through? Warrant-less arrest? Did you not hear of such things? See what an idiot these people are.]
He was to be taken to the Police Community Precinct in Intramuros, where he was held until he was transferred to Ermita Police Station 5 in UN Avenue, where we met him at around 7pm.
Carlos, who'd been under arrest for almost three hours, welcomed us with a smile. He was being held in the juvenile delinquent cell.
[I think he had a great time in THAT cell!]
Although five other prisoners were with him, he was impossible to miss – he was still in the Rizal outfit.
He told us the whole story, which brings us to now. There were reports
[rumors, innuendos...]
that Cardinal Rosales wants him in jail for embarrassing the whole Church.
[Jailed for embarrasment? Come on. Cut the cardinal some slack! The guy caused public scandal and you want it bygones?]
Rosales is thinking of filing a case against him. Carlos is willing to make a public apology, but he wants to emphasize that he is apologizing for the manner of his protest – not for its meaning. "The CBCP threatened civil disobedience. This is my version of it."
[He is indeed an idiot! This is NOT civil disobedience nor is this the kind of protest that would merit the sympathy of the bishops!]
Carlos started a protest that is long overdue. But he is not alone. Friends, family and fellow advocates of
secularism
[And BINGO was his name-o!]
and Reproductive Health continue to arrive to show their solidarity. Tomorrow there will be bigger demonstrations near Malacañang and the CBCP headquarters. And as long as the Church continues to block RH progress and
meddle in politics
, there will be many more.
In the same way that Jose Rizal stood against the
oppressive friars of his time
, we must take a stand against the CBCP. I'm not suggesting we do civil disobedience of any sort. Let's just keep the spirit of Rizal's protests alive in whatever way we can. Costume not required.
[Thank goodness for that!]
***
Now let's rant on this stupidity...
Atheists, secularists, whatever you call them...all want the Catholic Church in particular to stop meddling in politics:
What do they mean by this? The Church must not influence policy making? The Church must not tell the government what to do?
This is one of the rallying cries of those who are anti-Catholic, especially those of the Masons. Remember that this principle of separation of Church and State? Theprinciple espoused during the French Revolution and Masons, who are the founders of America? The ultimate goal is to take out religion from the public arena, the very same thing that the Holy Father, Benedict XVI, is fighting for in Europe.
Religion is part of who you are as a person. Religion WILL NEVER BE LEFT OUT OF POLITICS because as long as Catholics, Muslims and Buddhists, be they be cleric or lay, WILL ALWAYS BE PAYING TAXES AND VOTING, AND THAT GIVES THEM THE RIGHT TO EXPRESS THEMSELVES AGAINST GOVERNMENT ACTIONS AND POLICIES THAT GO AGAINST THEIR CONSCIENCES AND THEIR RELIGIOUS CONVICTIONS
What is so disdainful about this perverted activist is that he makes a living as a tour guide around old Manila which includes, you're right, Catholic sites and heritage!
Celdran thinks his cause is just because a "lot of Filipinos believe that we should have artificial birth control."
So, if majority of Filipinos would want to execute gays, transvestites, illiterates, street rats...
AND THEY CALL THEMSELVES FREETHINKERS!!!
If you and your lot are so against the Catholic Church "meddling" in politics,then...
...what will your reaction be against the
Muslim Imams of the Philippines who are ALSO against the RH Bill
?
Will you have the same testicular fortitude to stand up in the middle of a mosque and protest the opposition of Muslims towards the RH Bill?
I guess not.
...what do you have to say to the Iglesia ni Cristo Administration's forcing its members who and what group to vote for EVERY ELECTION? They call it endorsement...They call it a show of unity...It's the same banana. Its grave coersion. Members who do not heed the Administration's call are expelled...aka their form of excommunication.
To my fellow Pinoy Catholics, the attacks on the Church are not verbal anymore.
There are a new breed of Filipinos who would want our country to head down the road of perdition just as Europe and America are in now.
DO NO LET THIS HAPPEN.
THIS IS THE MOMENT TO BE PROUD AS CATHOLIC!