***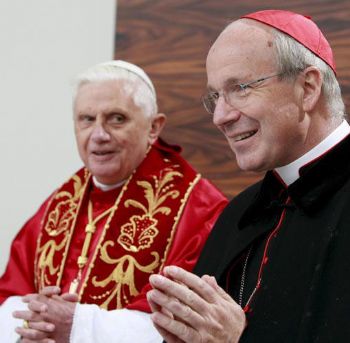 A senior Austrian cardinal has defended Pope Benedict XVI's record on tackling child abuse within the Church.

Cardinal Christoph Schoenborn said efforts by the then Cardinal Joseph Ratzinger to investigate a 1995 case were blocked by then Pope John Paul II
.
Cardinal Schoenborn said the Vatican had argued an investigation would generate bad publicity.
[It is now! Some of the old boys at the Vatican then were concerned of the negative publicity of the investigation and not the bigger negative publicity of the abuse.]
The cardinal's comments follow a week when the Vatican's record on child abuse has been intensively scrutinised.
Cardinal Schoenborn told Austrian television that
the current Pope tried to establish a Church investigation into abuse allegations against a previous Archbishop of Vienna, Cardinal Hans Hermann Groer
.
The Austrian Church was rocked by allegations in 1995 that Cardinal Groer had molested youths at a monastery in the 1970s.
But it was not until 1998 that, on Vatican orders, Cardinal Groer relinquished all religious duties and sought exile in Germany. He died in Austria in 2003.
At the time of his resignation, Cardinal Groer, in a statement released by the Church in Vienna, asked for forgiveness but made no admission of guilt.
At the time, the Vatican drew sharp criticism from many Austrians for taking three years to act against Cardinal Groer.
Negative publicity
Cardinal Schoenborn, who replaced Cardinal Groer as Archbishop of Vienna in 1995, said
Joseph Ratzinger was blocked in his efforts to confirm if there was a case to answer
.
[Cardinal Schoenborn was privy to this information.]
According to Cardinal Schoenborn,
Vatican officials persuaded Pope John Paul II that the allegations were exaggerated and that an investigation would open the Church up to negative publicity
.
"
I can still very clearly remember the moment when Cardinal Ratzinger sadly told me that the other camp had asserted itself
," Cardinal Schoenborn told ORF television.
"
To accuse him of being someone who covers things up - having known the Pope for many years - I can say that is certainly not true
," he added.
[Cardinal Schoenborn was a former student in Regensburg of Fr. Joseph Ratzinger.]
This is not the first time that Christoph Schoenborn has intervened in the scandal currently confronting the Church.
Earlier this month, he said clergy celibacy should be examined in trying to uncover the causes of abuse by priests.
[hu-hum!]
***
I am no fan of this "maverick" cardinal but his latest statements in defense of the Pope, I really do admire. Have you seen this in other media organizations being reported?
It is like the Philippine Eagle.
Getting very rare.