Pope Benedict XVI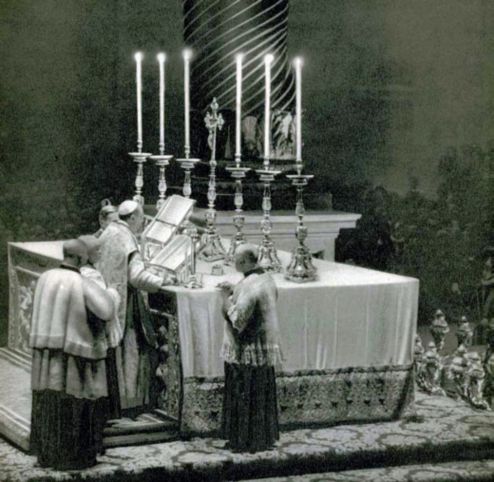 Venerable Pius XII

Hence the reason for the proposal made by the then Cardinal Ratzinger, and presently reaffirmed during the course of his pontificate,
to place the Crucifix on the centre of the altar, in order that all, during the celebration of the liturgy, may concretely face and look upon Lord, in such a way as to orient also their prayer and hearts
. Let us listen to the words of his Holiness, Benedict XVI, directly, who in the preface to the first book of his Complete Works, dedicated to the liturgy, writes the following: "T
he idea that the priest and people should stare at one another during prayer was born only in modern Christianity, and is completely alien to the ancient Church
.
[As some liturgists purports that celebrating Mass facing each other is an ancient way, listen to what the pope has to say.]
The priest and people most certainly do not pray one to the other, but to the one Lord. Therefore, they stare in the same direction during prayer: either towards the east as a cosmic symbol of the Lord who comes, or, where this is not possible, towards the image of Christ in the apse, towards a crucifix, or simply towards the heavens, as our Lord Himself did in his priestly prayer the night before His Passion
(John 17.1) In the meantime the proposal made by me at the end of the chapter treating this question in my work 'The Spirit of the Liturgy' is fortunately becoming more and more common:
rather than proceeding with further transformations, simply to place the crucifix at the center of the altar, which both priest and the faithful can face and be lead in this way towards the Lord, whom everyone addresses in prayer together
."
***
Does your parish church place the cross at the center of the altar?